Sparkler Filter Press
Our Zero Hold Up Filter Press for Agro-Chemicals, Zero Hold Up Filter Press for Food and Beverages, Zero Hold Up Filter Press for Distilleries, Zero Hold Up Filter Press for Breweries and FMCG
Sparkler type and consist of S.S. Shell & Top cover using bolts to give pressure tight enclosure. The filter cartridge assembly inside the shell consists of several horizontally arranged disc type filter plates with perforated supporting screens, filter media & interlocking cups. The entire assembly complete with pump & piping connection is mounted on a suitable S.S. Trolley.
Our strength lies in the process know-how whereby providing solutions rather than filtration equipment is a benefit to the user. Added to this is our long standing experience where we have handled a variety of applications with varying product characteristics and operating conditions. Although pharmaceutical industry has been our core competency, we also cater to other industries such as Agro-Chemicals, Food and Beverages, Distilleries, Breweries and FMCG
Filter presses separate the solids from the liquids so that the filtrate can be processed, packaged or delivered to the next step. Many processes in the food, chemical or pharmaceutical industries make products from liquid-solid suspensions or slurries.
Filter presses manufactured by us are intermittent type, designed to work in a "batch process". The assembly of filter plates (cartridge assembly) is placed inside the shell with arrangements of tie rods and sealing gaskets. Liquid fed from a pressure source like a pump or line pressure is forced through the filter plates where it is filtered through the filter media placed on each plate. This separates the solids from the liquid where the solids are retained on the filter media and the liquid filtrate flows through the central channel into the outlet pipeline. The process is repeated by redressing the filter once it is choked or the batch is over.
STANDARD FLOW TYPE : The impure liquid to be filtered is fed to the filter shell by pump. It arrives on top of each plate through opening on the sides of plates. As liquid pressure increases, the filter media (Paper/fabric) holds back the impurities & allows the crystal clear filtrate to pass through the central channel (formed by interlocking cups) which takes the filtrate to the outlet of filter. This filter most commonly used to obtain clear liquid. However if required, the cake formed between the plates can be obtained. Filtration is continued until its rate becomes very slow due to increased cake resistance.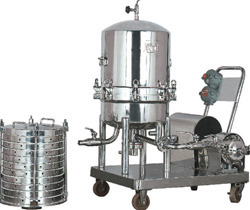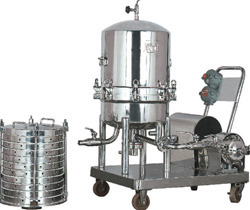 Zero Hold Up Filter Press: The Cartridge assembly consists of plates, perforated screens, spacers and fitter media. Interlocking spacers internally form single pipeline. The unfiltered liquid is centrally fed under pressure from bottom inlet. The liquids spreads out equally on each plate fitted with filter media. Solids remain on filter media and clear. filtrate flows through precisely made holes on sides of plates and collects in the shell, which then comes out through the outlet. In this process, solids are evenly distributed on each plate. The cake is then cleaned from the filter material and used again for filtration process.
Specially high volume output requirement Wine Filter Press Machine ,Beer Filter Press Machine ,Whisky Filtration Machine ,Juice Filter Press Machine ,Apple Wine Filter Press Machine , Rum Filter Press Machine ,Alcohol Filter Press Filtration Machine ,Vodka Filter Press Machine ,Filter Press Machine ,Pharma Filter Press ,Pharmaceutical Filter Press ,Industrial Filter Press , Honey Filter Press ,Honey Milk Acidic Liquid Filter Press ,Syrup Liquid Filter Press ,Automatic Carbon Slurry Filter Press, Food Processing Filter Press, Automatic Sugar Syrup Liquid Filter Press,Sugar Syrup Filtration Machine ,Juice Filter Press ,Cherry Juice Filtration Machine ,Elderberry Juice Filter Press , Grape Juice Filter Press ,Guava Juice Filter Press , Chiffon Sarees and Lime Juice Filter Press , Payaya Juice Filter Press ,Peach Juice Filtration Machine ,Vegetable Juice Filter Press ,Pineapple Juice Filter Press, Apple Juice Filter Press ,Rose Water Filtration Machine ,Standard Filter Press for Pharmaceutical Industry ,Ink Filter Filtration Machine ,Glycerin Filter Filtration Machine ,Standard Filter Press for Pharmaceutical Industry ,Syrup Filter Filtration Machine Press ,Syrup Filter Press Filtration Machine ,Cough Syrup Filter Press Machine ,Malt Syrup Filter Press Machine ,Maple Syrup Filter Press Machine Our product range includes a wide range of standard filter press, sparkler filters, sparkler filter press, horizontal filter press sparkler type, horizontal filter press and gear pump horizontal filter press for best suitable Pharmaceutical, Pesticide, Food, Beverages, Cosmetic, Chemical As Well As Packaging Industries.
Single pass filtration with no solid bypass.
Full batch recovery, no separate scavenging system needed.
Proper sealing which allows the filtration of volatile, toxic and inflammable products.
Plate pack arrangement ensures :
Any type of filtering media singularly or in combination can be used to achieve required micron efficiency.
Easy removal and cleaning of the Cartridge Assembly.
Closed System ensures :
Filtration of toxic, hazardous, explosive materials.
Efficiently cleaned and sterilized.
Central feeding ensures:
No solid inside the vessel, complete recovery of liquids.
Cake solids can be maximum dried with N2
Complete cake retains over the plate.
Uniform filter-aid bed can be formed.
Reduces the cost of expensive solvents.
Technical Specification :
| | | | | | |
| --- | --- | --- | --- | --- | --- |
| Types | Diameter of Plate | No. of Plates | Filtering Area M2 | Cake Holding Capacity Ltrs. | Capacity Ltr / Hr |
| ZHSF – 8x6 | 8" | 6 | 0.198 | 4.50 | 400 |
| ZHSF- 8x8 | 8" | 8 | 0.254 | 5.78 | 500 |
| ZHSF- 14x8 | 14" | 8 | 0.756 | 27.00 | 1500 |
| ZHSF- 14x10 | 14" | 10 | 0.924 | 35.00 | 1800 |
| ZHSF – 18x8 | 18" D | 8 | 1.270 | 51.00 | 2500 |
| ZHSF – 18x15 | 18" S | 15 | 2.270 | 44.00 | 4500 |
| ZHSF -18x12 | 18" D | 12 | 1.840 | 78.00 | 3700 |
| ZHSF- 18x23 | 18" S | 23 | 3.400 | 65.00 | 6800 |
| ZHSF- 24x12 | 24" D | 12 | 3.430 | 148.00 | 6700 |
| ZHSF-24x23 | 24" S | 23 | 6.336 | 120.00 | 12600 |
| ZHSF- 33x7 | 33" D | 7 | 4.000 | 175.00 | 8000 |
Contact Us
24/A, Laxmi Ind. Estate, Amraiwadi, Ahmedabad 380026